Right now
I have very little to say, except this page is under construction. Actually, I declare that it is even more so under construction than the millions of other pages which claim that status. They're frauds, this is the real thing.
By the way,
I did indeed find out the precise date of Dutilleux's birth, which is more important than anything else. It's January 22, 1916. So, before long, he will be celebrating his eighty-first birthday, which as everybody knows is much more of a landmark birthday than the eightieth. What other birthday is 3x3x3x3?
Anyway,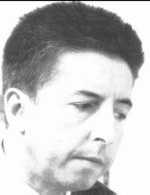 I think Henri Dutilleux is a good composer. And, I like his music. I don't know enough about things to say noteworthy things of my own, though, so for now my plan is to provide easy access to what more-astute-people-than-I have written about Dutilleux. This page now is nothing at all except a place to gather links to my other pages. These of course consist of articles and cd reviews concerning Dutilleux, for which I made time in my dramatic and exciting life to manually type into the computer and set in html. This, undoubtedly, will attract thousands of Dutilleux admirers and make their lives substantially more enjoyable. So, go ahead and read the following links:


First of all, this is pretty much the only other page about Dutilleux I've found so far.
The liner notes for a recording featuring Dutilleux's violin concerto, and more.
A review for that recording.
A review for a different recording of the violin concerto plus the cello concerto.
A review for a cd featuring the piano sonata.
Another review...Symphony No. 2 and orchestral works.
Yet another, of Symphonies Nos. 1 and 2.
And finally, one of a 3-disc set featuring many of Dutilleux's most important works.

That's it for now. Unless, of course, you'd like to email me.